WEST KOWLOON RECLAMATION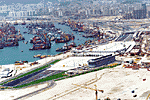 The West Kowloon Reclamation is the largest reclamation ever undertaken in the urban area -- increasing the size of the Kowloon peninsula by one-third and extending the waterfront into the harbour by as much as one kilometre.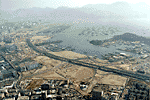 The project provides 334 hectares of new land between Yau Ma Tei and Lai Chi Kok. This land is being used for the transport infrastructure serving the new airport. It will also be used for various other purposes, including public and private housing for over 100,000 people, Government and community facilities and recreational areas.
| 主網頁 | 機場核心計劃 | 十項核心工程 | 惠及社會 |
| 工程合約 | 工程進展 | 成本 | 其 他 資 料 |
---