TUNG CHUNG NEW TOWN (Phase 1)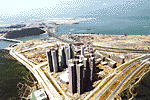 The first phase of public housing development in Tung Chung New Town was ready for occupation in the second half of 1997.
The new town is designed as a support community for the new airport, providing residential accommodation and community and commercial facilities at a site on Lantau adjacent to the airport.
The initial population is about 15,000 people living in public housing. Another 5,000 will live in private housing being completed in 1998.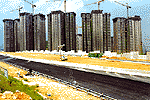 The new town is the first to be developed on an outlying island. Built on specially reclaimed land, it has its own special characteristics, and conveys a "gateway" image for both the town itself and the new airport.
Environmental planning has played an important role in planning to ensure that the new town blends in with the rural character of north Lantau.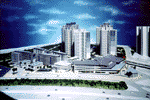 Further phases of development, greatly expanding the new town's area, will provide for a population of up to 320,000 by the year 2011.
The town centre will be the focus of retail, commercial and cultural activities through the provision of shops, offices, hotels, a town hall, and a railway station.
A special feature is the station concourse in a multi-level development complex spanning the transport corridor for the expressway and the railway.
Priority has been given to employees working at the new airport or the new town as well as sitting tenants who apply for public rental housing or Home Ownership Scheme flats at Tung Chung.
The first phase public housing development at Tung Chung comprises five home ownership blocks at Yu Tung Court and three public rental housing blocks at Fu Tung Estate, providing 2,640 home ownership and 1,664 rental units.
Several bus routes, including an overnight service, were in service when the first residents move in.
The routes are among the 25 that are operated by two companies granted Government franchises to serve the new town and the new airport.
The entire network was in full operation upon the opening of the new airport.
Citybus Limited operates 13 of the routes and Long Win Holdings Limited, a wholly owned subsidiary of Kowloon Motor Bus, operates 12.
The services provided include airbuses, overnight services to the airport and the new town, external services from North Lantau to urban areas, and internal shuttle services.
Air-conditioned double-deck buses with luggage compartments are deployed on public bus routes to the new airport.
The fare for each route ranges from $17 to $45 for airbus services, from $10 to $18 for external services, from $3 to $7 for internal shuttle services, and from $20 to $35 for overnight services. Concessionary fares are offered for passengers aged 65 or above.
Both operators introduced special customer services such as luggage handling assistance and on-bus equipment to facilitate ease of access by passengers with luggage and people with a disability.

| Home | ACP | 10 Core Projects | Community Benefits |
| Contracts List | Highlights | Cost | Further Information |
---