ROUTE 3 (part)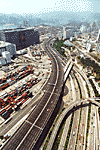 Two sections of this north-south route are built as part of the ACP --

theTsing Yi and Kwai Chung sections
Tsing Yi section
a 1.6 kilometre dual three-lane twin-tube tunnel through Tsing Yi Island
a 500-metre bridge over the Rambler Channel that separates the island from the mainland.
It opened to traffic on May 22, 1997.
Kwai Chung section
a viaduct built 20 metres above ground. Unlike the rest of the road transport network, it has eight lanes.
The three-kilometre viaduct was officially opened on February 19, 1997 and opened to the public on February 20.
It links the Rambler Channel Bridge in the north and the West Kowloon Expressway in the south with connection to Kwai Chung Road, Tsuen Wan Road, Ching Cheung Road and the Container Port Road.
| Home | ACP | 10 Core Projects | Community Benefits |
| Contracts List | Highlights | Cost | Further Information |
---