AIRPORT RAILWAY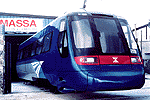 It is the world's first railway built specifically to serve an airport with an integrated design for stations and equipment.
The railway has two services: an Airport Express and a domestic service, the Tung Chung Line, with the trains operating at speeds up to 135 kilometres per hour.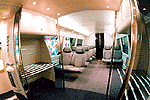 The Airport Express has been designed as an all-seated, business class-type service which carries passengers between the airport and the Central District of Hong Kong. There are two intermediate stops -- at Kowloon and Tsing Yi.
The service started with seven cars initially, and each car has 64 seats, with space available for baggage. In-town check-in facilities for airline passengers are provided at the Hong Kong and Kowloon stations, and baggage checked in there is carried in a separate car.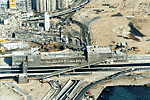 The local service is a mass transit commuter service between Hong Kong Island and Tung Chung New Town. It operates mainly on the same tracks, but with separate platforms from the Airport Express. There are six stations: at Hong Kong, Kowloon, Tai Kok Tsui, Lai King, Tsing Yi and Tung Chung.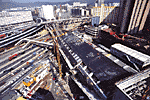 The service also operates initially with seven cars, which are able to carry 312 passengers, the same as the existing Mass Transit Railway (MTR). The service brings much needed relief to the busy Nathan Road section of the MTR. The travelling time from Lai King to Central is less than half the time it takes on the MTR's Tsuen Wan Line.
The railway crosses the harbour in an immersed tube tunnel.

| Home | ACP | 10 Core Projects | Community Benefits |
| Contracts List | Highlights | Cost | Further Information |
---