CENTRAL RECLAMATION (Phase 1)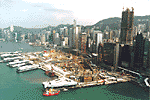 Twenty hectares of land have been reclaimed from the Central waterfront and a further six hectares of existing land redeveloped.
The reclamation, between Rumsey Street and Pedder Street, has extended the waterfront by up to 350 metres beyond Central's existing shoreline.
The Hong Kong terminus of the Airport Railway is built on the new land, which also provides opportunities for the expansion of the Central business district.
Six new ferry piers, serving both inner harbour and outlying island routes, have been built on the reclaimed land. A large promenade has been provided as well as a bus terminus.
| Home | ACP | 10 Core Projects | Community Benefits |
| Contracts List | Highlights | Cost | Further Information |
---