ACP EXHIBITION CENTRE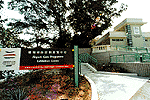 The ACP Exhibition Centre provides general information on the 10 core projects through the use of models, photographs, panel texts and videos.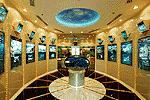 The Centre is also an excellent spot from which to view the Tsing Ma Bridge.
Admission is free.

Location:
401 Castle Peak Road,
Ting Kau,
New Territories
(between the Lido and Gemini beaches)

Opening Hours:
Tuesday to Friday (10 am to 5 pm)
Saturday, Sunday
and public holidays (10 am to 6.30 pm)
The Centre is closed on Mondays, except when the day is a public holiday.
The Centre will also be closed during the Christmas holidays, New Year's Day, and the Chinese New Year holidays.

Transport
As the Centre has limited parking space, visitors are advised to take public transport where possible, especially at weekends.
Visitors who travel by public transport can take the following services:
from Tsuen Wan

Public buses

Route No.
234B:
Tsuen Wan Ferry Pier -- Seacrest Villa
53:
Tsuen Wan Ferry Pier -- Yuen Long (East)

Green mini-buses

Route No.
96:
Tsuen Wan Ferry Pier -- Tsing Lung Tau
96M:
Tsuen Wan MTR Station -- Tsing Lung Tau/Sham Tseng

Red mini-buses

from Yuen Long / Tuen Mun

Public buses
Route No. 53: Yuen Long (East) -- Tsuen Wan Ferry Pier

Red mini-buses

from Kowloon

Red mini-buses
from terminus at intersection of Nanking and Parkes Streets near Jordan MTR Station

General Enquiries about the Centre:
| | |
| --- | --- |
| Tel: | (852) 2491 9202 |
| | (852) 2491 9227 |
| Fax: | (852) 2491 1786 |