Health, Welfare & Food Bureau
SARS Bulletin
(23 April 2003)



Summary of Cases
As at 22 April, a total of 1,434 patients have been admitted to public hospitals with the Severe Acute Respiratory Syndrome (SARS). Of these, 331 (23.1%) are health care workers or medical students. A total of 461 patients (32.1%) have recovered and been discharged from public hospitals, of whom 25 were discharged on 22 April. Most of the patients currently in hospital are showing positive responses to the new treatment protocol. 109 patients are receiving treatment in the intensive care units. There are a total of 99 fatal cases.
2. The epidemic curve of 22 April showing the dates of onset of 1,310 patients is as follows 1-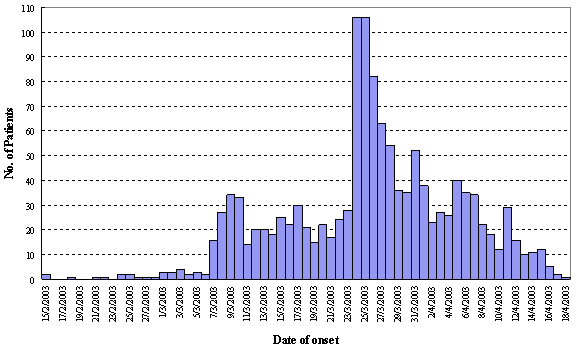 Cases in Tai Po District
3. As of 23 April, a cumulative total of 126 SARS cases were reported in Tai Po district, representing more than 8% of all SARS cases over the territory. These cases consisted of 65 males and 61 females, with age ranging from 2 to 89 years and a median of 44 years. Over 70% of the patients in these cases were either healthcare workers or were believed to have contracted the disease during their visits to the hospitals.

Latest Measures
Measure Body Temperature of Passengers
4. With effect from 0000 hrs of 24 April, all inbound and transit passengers arriving at the Hong Kong International Airport will be required to have their body temperature taken. This measure follows a successful pilot scheme that was conducted between 21 and 22 April. Under this pilot scheme, a total of 2,386 passengers and crews were checked and none of them was found to have fever of over 38 degree Celsius.
5. At present, all outbound passengers departing at the Hong Kong International Airport are already required to have their body temperature taken. As at 22 April, no one among the 59,638 persons departed from the airport was suspected to have SARS.
6. In addition, with effect from 0600 hrs of 24 April, the Department of Health will start measuring the body temperature of inbound passengers arriving in Hong Kong via Hung Hom and Lo Wu.

Ongoing Development
Home Confinement
7. Since 10 April, the Director of Health has required all household contacts of confirmed SARS patients to confine themselves at home for monitoring and treatment up to a maximum of 10 days. As at 22 April, a total of 722 persons (from 274 households) were affected by this requirement. The Social Welfare Department has provided a wide range of assistance, including provision of daily necessities and financial assistance, to 476 of these persons (from 171 households).
8. Implementation of the home confinement arrangement has been smooth. So far, only 2 cases were referred to the Police for tracing of defaulters.

Health Advice / Further Information
Smoking & SARS
9. Smoking damages the cardiovascular system. If smokers contract SARS, their chance of recovery will be lowered. To prevent oneself from contracting the disease, members of the public should quit smoking immediately for the following reasons:
Smoking weakens body immunity and increases the chance of infection;


When one smokes, his/her hands repeatedly touch or are positioned near the nose and mouth, making it easier for the transmission of the virus;


Masks are to be taken off while smoking, thus reducing the protection.
10. For more information, the public may call the Smoking Cessation Hotline at 2961 8883 or browse the website of DH's Tobacco Control Office: http://www.tobaccocontrol.gov.hk.
Further Information
11. To empower the public in fighting against the disease, DH has also issued advices and guidelines on prevention of the SARS for various sectors. Health education information is available on the 24-hour pre-recorded hotlines (2833 0111) and has been uploaded onto DH's homepage (http://www.info.gov.hk/dh). A hotline (187 2222) has also been provided for public enquiries.

Health, Welfare and Food Bureau
Government of the Hong Kong Special Administrative Region
---
1 The dates of onset of the remaining 124 cases are to be confirmed.